In this blog, You will learn how to Transfer FTM 2019 To A New Computer. If your computer is not working or if you have a new computer that you want to use. You can follow the steps below to transfer your family tree maker 2019. So, let's learn to Transfer FTM 2019 to a new computer.
Transfer FTM 2019 To A New Computer
Backing up a tree.
Installing Free Family Tree Maker 2019 copy.
Transferring your data from an old to a new computer.
1. How To Back Up Your Tree File?
There are three ways you can back up your tree. Please follow the steps below. We suggest you use an external hard disk or flash drive since we will transfer the files to a new computer.
Please open the Family Tree Maker 2019. Click on the file tab and then click on backup. You will get a small window to select the location. Please choose your external hard disk (flash drive).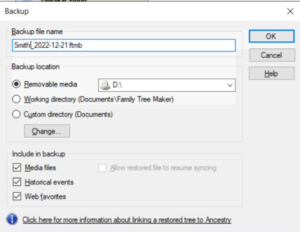 And then click on OK. Once you click on okay, your file will be saved on the external hard disk. Now you can quickly move this file to the new computer.
Click on File and click on export. Please know that when you export a tree, you can select the entire file or individuals. You can also protect this file using a password.
Click on Ok, and a new window will appear for you to select the location where the file will be saved. Please select the flash drive or external hard disk.
The default folder in FTM is the family tree maker saved in the documents folder. Please right-click on it, click on copy or hold the control key and press C. Once you copy it, you can save the file to an external hard disk.
2. How to get a free copy of Family Tree Maker 2019 and Install it on a new computer?
Please go to the MacKiev Family Tree Maker replacement centre for a free copy of your Family Tree Maker 2019. You can also go to the Family Tree Maker 2019 upgrade center. As soon as you are on the Family Tree Maker 2019 replacement centre page, It will ask you to type your name, email address, country, state, and the version you purchased.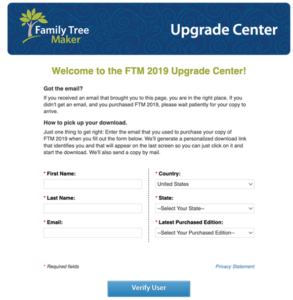 Click Verify User to verify yourself as a purchaser of Family Tree Maker. Please make sure to enter the correct email address. Else, you will not be able to get the free copy.
Once you are verified, keep clicking on next until you get the windows to put your information again to purchase FTM. Do not worry. The cost is USD 0.00, which means you will not pay anything.
You will get two links for the Family Tree Maker 2019 download.  You can download FTM 2019 on your Windows or Mac computers. Download and install the Family Tree Maker and import your data from the external hard disk.
3. How to import tree data from the flash drive to the family tree maker?
Open FTM software and then click on the select tree tab (the select tree tab is on the top left corner of your computer screen). You will get an option to click on the tree browser. Please click on it and then click on browse, as mentioned in the image below.
Select the folder where our family tree data is saved, which we copied from the old computer. That is how you can import family tree maker data. If you have ancestry, you can sign in to Ancestry and download the tree from Ancestry to Family Tree Maker.
FAQ
Question:- Can Family Tree Maker be installed on two computers?
Answer:- Yes, a family tree maker can be installed on three computers as long as the user is only one person. If you have multiple people, you can use the family Pack of Family Tree Maker 2019.
Question:- Is the Family Tree Maker 2019 manual available now?
Answer:- Yes, if you want to purchase it. Please note the previous orders that MacKiev took have yet to be delivered. So please order after checking with MacKiev.
Question:- Is transferring Family Tree Maker files from one computer to another hard?
Answer:- If you are computer savvy, then no. It is easy; please follow the process mentioned above.
We provide support for Family Tree Maker 2019 software. If You like us, get your FTM 2019 transfer. Then, you can visit our Family Tree Maker Support website or call us at our FTM toll-free number +1-888-257-3335.
Related Articles:-