Last updated on September 12th, 2023 at 05:23 am
Here you will learn about How To Fix family tree maker sync Issue 2023. In April 2023, Ancestry made some changes to its website (https://ancestry.com). This update has affected Family Tree Maker 2019 and created a constant orange weather report on FTM 2019. Today is 14th August 2023, and we are writing a detailed update on this issue. You can read till the end of the content to understand what needs to be done if you have an orange weather report on FTM 2019.
Fix Family Tree Maker Sync Issue 2023
What MacKiev has to say?
We have contacted MacKiev on behalf of a customer to check the status. MacKiev says the developers are working on this issue, which will be fixed soon. We have heard this answer from MacKiev, at least 20 to 30 times. Recently MacKiev has emailed customers, letting them know they may get an update soon. We have attached the image of the email which was sent to customers.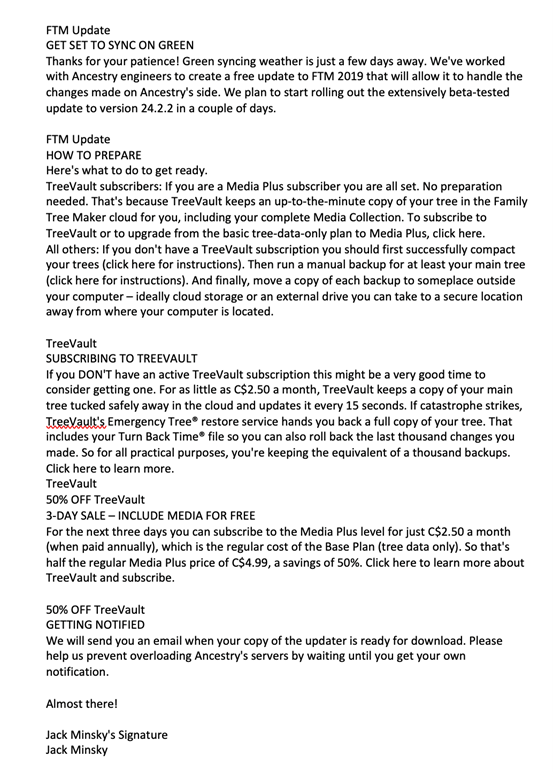 We understand from this email that they will send an update soon.  How should you prepare for this update and here is what you should do.
Please Follow The Steps As Mentioned:- 
Backing up your Family Tree Maker 2019 will ensure your FTM data is safe.
Compacting your Tree Files to make your tree files lighter. If your tree is compacted, the sync process will work faster.
They are checking for duplicate persons and correcting them. It does not have to do anything with the sync process, but your tree will not have errors if you work on duplicate people in your tree.
Checking for missing media is essential. If you have missing media in your tree, then you may not be able to sync your tree to ancestry.
Downloading and installing the Family tree maker 2019 update (You will get an email as soon as an update is available). The update will have a patch which will Fix family tree maker sync Issue 2023, so if you get an email from MacKiev to update your software, then you should update your software.
Make sure your ancestry subscription is active. If your subscription is expired, then you will not be able to research the ancestry website.
Syncing or uploading your tree to Ancestry. This is the final step to upload your ancestry.
If you have an issue while you are trying to fix the orange weather report, you can contact our customer service team. You can call us at FTM Support Number +1-888-299-3207 or Live Chat with us.
Related Articles:-